Blu-Ray Review: Iron Man 2
Blu-Ray Review: Iron Man 2
Starring: Robert Downey Jr. Gwyneth Paltrow, Don Cheadle, Mickey Rourke, Samuel L. Jackson, Scarlett Johansson, Sam Rockwell
Directed By: Jon Favreau
Iron Man 2 was a great sequel. It had tons of action, special effects, and superb acting to keep the fans entertained and get their money's worth. Despite some pacing issues and some nitpicks, the sequel performed well enough to keep the numbers rolling in Marvel's favor, outperforming expectations and even surpassing the box office record of its predecessor "Iron Man". Now that four months have passed since it took theaters by storm, Tony Stark and his armored alter ego are ready to suit up and ride home, as Iron Man 2 makes its long awaited release for home video via Blu-Ray and DVD!
Naturally, I'll begin this review with a few words of note. There may be a few SPOILERS about the movie and the contents of the discs containing the special features, so any purists out there who want to enjoy and discover for themselves best turn their attention away from this article now. Otherwise, here's what I have to say, so enjoy the read, and hopefully it'll convince you to grab this beautiful package asap!
Sealed and displayed in a 3 disc package, the Blu-Ray Combo pack release of Iron Man 2 is jam packed with enough features to make any fan of ol' shellhead squeal. As the current medium of choice for High-Def goodness, you can't go wrong with Blu-Ray, and seeing as I own a Playstation 3 and an HDTV, I definitely had to pick this package up, especially with all the goodies featured inside. On the first disc, you get the complete 2 hour+ film, which I already in my movie review of Iron Man 2, so if you haven't seen that yet, you've been missing out on pure metal hero action!
Yeah, that's the film in all its glory alright, but besides that, there's a volley of special features that should prove interesting to the average Marvelite with a nose for curiosity. The primary goodie to check out would be the "S.H.I.E.L.D Data Vault", which explores files, people, and locations centered around the Marvel Cinematic Universe. Priority is given to Iron Man of course, but there are references to other Marvel films and characters that mesh into the continuity of the armored avenger. This of course is done intentionally by Marvel Studios to make way for the inevitable release of the Avengers movie, so don't be surprised to see Edward Norton's mugshot as Bruce Banner from 2008's "The Incredible Hulk" in the vault. It's a long way til 2012, but this is a good teaser/ primer for the live action adaptation of Earth's Mightiest Heroes. Be on the lookout for some easter eggs too; There are several of them inside, including some hidden files featuring Tony's father, Howard Stark, discussing some technology he produced for S.H.I.E.L.D's use. While I have yet to come across any of the rumored "teaser trailers" of "Thor" and "Captain America: The First Avenger", there are references to those upcoming 2011 movies via the Data Vault files. Again, just explore and play around with the features, and do take time to listen to the commentary track featuring none other than film director Jon Favreau. He's fun to listen to, shedding light on the grueling filmmaking process, as well as pointing out a few nifty extras and easter eggs that people wouldn't notice immediately! Good times, I say, and that's just the first disc!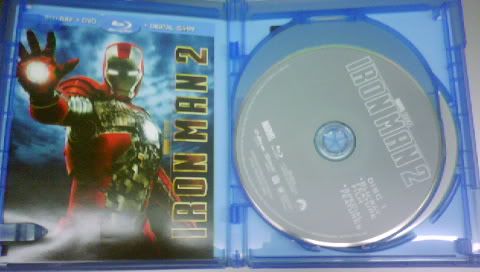 Now we get to the meat of the package – the second disc, which contains all the special features that Iron Man 2 fanatics need to make the experience complete. Highlighting the features on this disc of course is "Ultimate Iron Man", A four part "Making Of" documentary that explores how the sequel was made, featuring none other than Favreau himself, who takes a cue from the previous documentation of the first Iron Man movie by splicing in footage he had filmed of the filmmaking process from start to finish.
Viewers will get a glimpse of everything; From principal photography takes to discussions; looks at all the armors used in the film from the Mark V suitcase armor to the War Machine armor; and tweaks in the editing room. It's simply amazing and breathtaking, and I must say that anyone curious to know how things went "behind-the-scenes" should definitely take a look at this presentation to see how much effort Mr. Favreau and his crew put to make this sequel a worthy one. That's only the tip of the iceberg though, as there are several more indepth "behind-the-scenes featurettes" that spotlight and focus on other points from the movie, including the creation of the Stark Expo, and the origins of the Black Widow and War Machine! Of course, the extras I have been waiting to get a glimpse of the most were the deleted scenes.
Remember the first trailer of Iron Man 2 where Pepper and Tony had a tender moment before he jumped off to land in the Expo? In the final fim, it was revised to exclude that scene, but now it's here and featured among the select delected footage. All that plus more make the second disc a worthwhile extra to have for true collectors! As for the third disc, it's a DVD version of the film, meaning you can play it anywhere at anytime if a Blu-Ray player or PS3 is not readily available! The last disc also houses the digital copy of the movie which you can download for your portable player or mp4 device.
As a final word, the Blu-Ray 3-Disc Combo Pack of Iron Man 2 is definitely a must buy. Anyone who enjoyed the performances of Robert Downey Jr, Mickey Rourke, Sam Rockwell, and company should definitely pick it up, and any Marvelite who loved how the whole Iron Man experience was brought to life by Jon Favreau and his team will marvel at all the special effects and extras this package has to offer. Definitely superior tech here like the first film, and assemble your Avengers film gallery by adding this one to your collection today!
*Originally posted by Timzster and seen in The Crusader's Realm