Posted
March 22, 2012 by Earl Maghirang
in Cosplay
EXCLUSIVE BEHIND-THE-SCENE LOOK at Jay Tablante's New Cosplay Shoot Featuring ALODIA GOSIENGFIAO
We here at Flipgeeks were lucky enough to be part of Jay Tablante's latest cosplay shoot featuring the cosplay queen Alodia Gosiengfiao and we'd like to share a few photos from that awesome shoot.
Alodia herself seemed pretty psyched up for the shoot as she was smiling and talking to the crew in between takes.  The shoot was done inside Edifice Studios. When I got to the studio in the afternoon, the crew together with a select few where already clicking away and watching Jay in action.
The first part of the session was dedicated to taking photos of Alodia cosplaying as Evangelion's Rei Ayanami. To be more geeky and more precise about this the REI AYANAMI done by Shunya Yamashita.
Here's another pose.
Ms. Gosiengfiao was also kind enough to pose for one photo in between takes
I'd also like to point out that this shoot was also streamed over the Internet which is part of the Malaysian Games and Comics Convention where both Jay and Alodia will be attending. On a sidenote, if the BTS coverage isn't enough for you, you might want to check the MGCCon Ustream account where you can see everything as it transpired.
The second phase of Jay's shoot still revolved around Alodia's Rei cosplay but with a new twist, she was to appear as the battle damaged version of the character complete with bloodied bandages and bruises. Here are some of the shots I took.
I tell you guys, between Jay's talents when it comes to photography plus Alodia's spot-on take on Rei Ayanami, you're going to get your minds blown with the final output for this shoot.
Finally, the third phase was Alodia cosplaying as the Phoenix. Or to be more precise, the "White Phoenix of the Crown".
Now time for a short history lesson about the character kids. This version first appeared in the New X-Men story arc "Here Comes Tommorrow" where we see the resurrected Jean Grey go into the "White Hot Room" where she meets the other White Phoenix. *yes Grant Morrisson made all that up for the book* Dig this, as the White Phoenix (of the Crown) Jean is powerful enough to control any universe's timeline; influencing decisions and stuff like that.
The idea also came from this: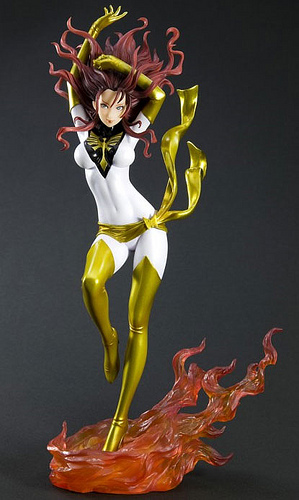 Here are other snippets from the said shoot:
So again I'd like to thank Jay Tablante and his wonderful staff as well as for Ms. Alodia Gosiengfiao for graciously posing a couple of times for this exclusive BTS coverage.
Special thanks to Mr. Carlo Pagulayan and Ms. Max-C Cubacub for the chit-chat and Mark Anthony Atos for the Nikon (blergh) I borrowed.