Posted
January 12, 2014 by Mac Ocampo
in Comics
Trigger Batty: When Should Batman Carry a Gun?
Acclaimed writer Brad Meltzer and Bryan Hitch will kick things off for Batman this year with their version of Detective Comics #27. 'Tec #27 has hit the shelves last week with a regular Greg Capullo cover reminiscent to Tim Burton's 1989 Batman flick and a handful of variant covers. The Jim Lee cover has been making the rounds on Facebook groups and has elicited a plethora of feedbacks. The cover shows a vintage caped crusader donning his original costume carrying a pistol as he watches Gotham from a skyscraper. A few threads have started a fresh yet cliché debate whether the Dark Knight should carry guns or not.
Unknown to younger readers, Batman used to carry guns since the character was inspired by The Shadow. The first five issues of Detective Comics that featured Batman were either a tribute or just a plain rip-off of the clouder of men's minds. That's when Bill Finger and Bob Kane decided to reinvent Batman. No guns. No killing. It's time to become his own character. However, the notion of guns isn't simply for visual purposes but a significant aspect throughout the Batman mythos.
Here are 5 instances where Batman decides to carry a gun:
1.) Batman: Year Two
The Dark Knight decides to hunt down his parents' killer and use the gun that killed them. Sounds like an interesting story? Readers bombed it.
2.) Infinite Crisis
Batman almost shoots Alexander Luthor in Infinite Crisis. Who halts him from pulling the trigger? You need to read the story.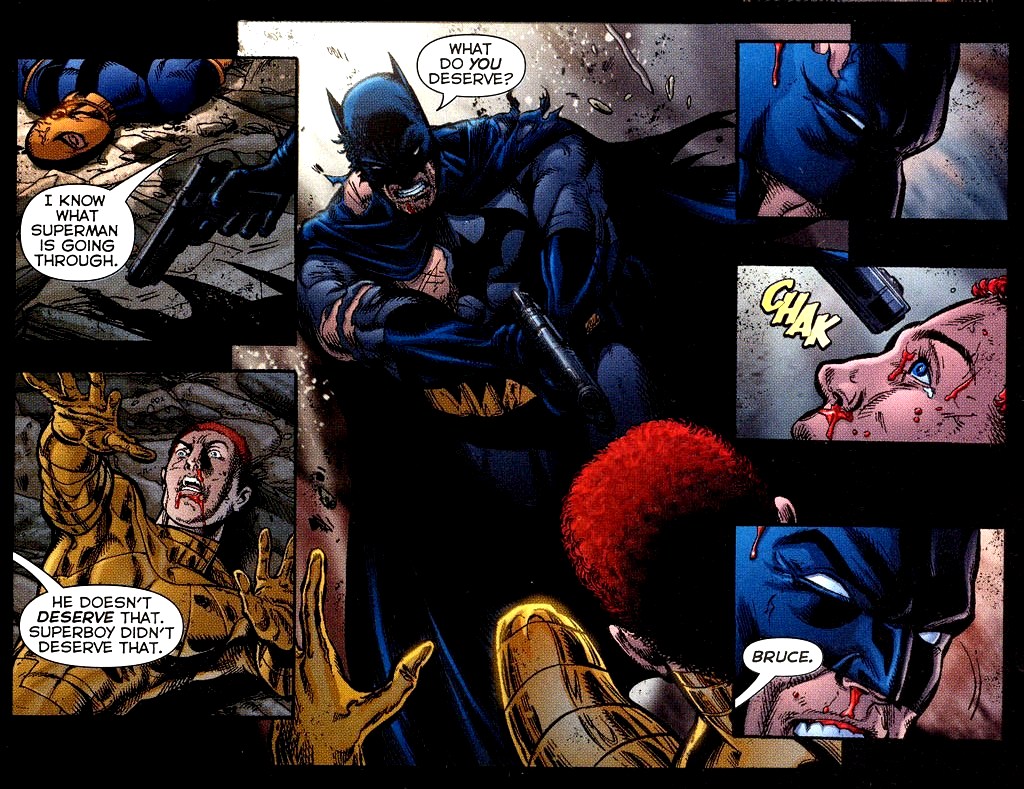 3.) Silver Age Covers
The covers during World War II showed Batman not even using a gun but a…machine gun! Oh, he even endorses the use of it. What a guy!
4.) Final Crisis
Morrison's Final Crisis showed readers how Batman can justify his purpose by defying his principles. A single bullet to take down Darkseid? Batman always wins.
5.) Detective Comics #'s 27-33
Bill Finger and Bob Kane eventually outgrew Batman's use of pistols during their initial run on Detective Comics.
My Take:
It's ironic that a gun paved the way for a man to wage war against crime. It also lead to the creation of his rogues gallery. Imagine if Batman used a gun, do you think he'll have comics' most well-known villains? Batman carrying gun is fine as long as the gun doesn't "carry" him. A gun defines how your mindset is. It's a weapon used to instill fear. Yet the real question here is who's afraid the most – the person infront of the gun or the person behind the trigger?